No Man's Sky To Have "More Traditional Multiplayer"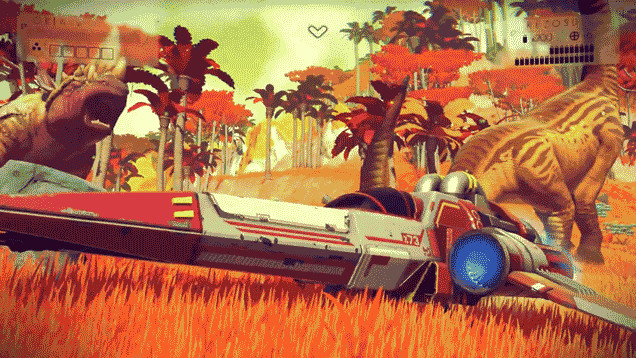 09 July 2014
Despite being one of the most exciting games on the horizon, no one outside its makers, Hello Games, has a precise idea of what No Man's Sky is going to be about. Gamespot tried desperately to pry away more details in a video interview with Sean Murray, and while most of the chat doesn't really offer a lot of new information, there is one extremely interesting tidbit that I've been hoping to hear all along: it seems like the studio has a plan for a more traditional multiplayer experience.
This is not a game about forming clans, religions, whatever. But it has some MMO-esque mechanics. In terms of meeting other people, the place is so vast! That's why you can't get across to people. It start off with exploration and people will upload information when they visit a planet.

If you took one of our planets, some of our planets are really planet-sized, and you dropped a million people onto a planet of the size of Earth, they're still going to be far apart, so probably even our planets won't ever be fully discovered.

You can cross paths with other players, but it's just not a core component of the game. We're doing the worst possible thing probably, we're going to fling you out, really far apart.

There is this thing, which I'm not going to talk about now, that is a plan for multiplayer and for people to have a more traditional multiplayer experience within the game, and that's something that we'll deal with further down the line and it is exciting, but it's not what's core to the game right now.
No Man's Sky has been confirmed for a debut on PlayStation 4, but Hello Games confirmed that they'd like to do release it on PC as well, even though they're not sure it will be at the same time of PS4.