Everything You Wanted To Know On Secret Ponchos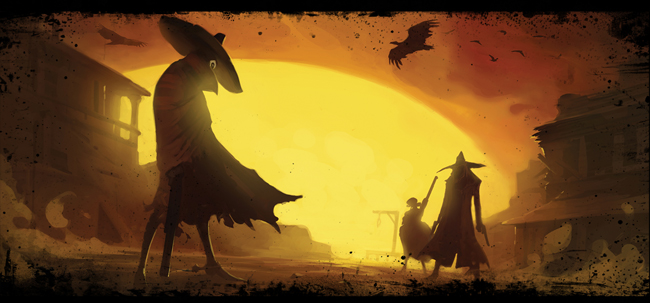 25 April 2014
Yesterday we gave you a little tease of our interview with the Switchblade Monkeys team about Secret Ponchos, but we're not ones to keep our dear readers waiting. Here's the full Q&A with Lead Artist Jared Fry, which sheds some light on this very interesting game, coming soon to PS4 & PC. Enjoy!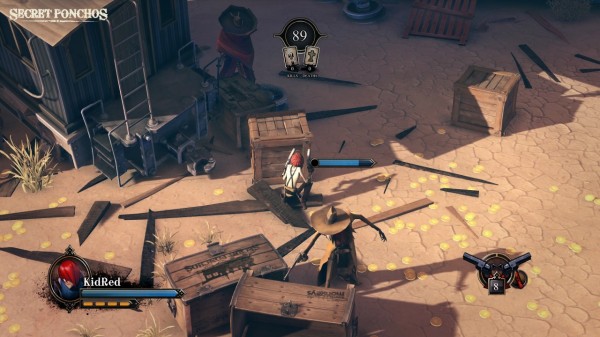 Welcome to Worlds Factory! Please, introduce yourself and your game to our readers.
Hello Worlds Factory and your readers! Thank you for talking to us! We, Switchblade Monkeys, are a small group of friends who have gotten together, like a garage band, and have been building Secret Ponchos from our homes. We have all been in the game industry for years and jumped on this opportunity to build a game we are all passionate about. There are a few of us that are working full time on the project and the rest are working on it in any moment they can. It is definitely a passion project that we are all completely invested in, and I think it shows.
Secret Ponchos is a spaghetti western graphic novel come to life. It is full of tension, action and is highly competitive. The bounty hunters you encounter in Lone Tree are weathered, gritty and are all gunning for your head. In order to survive you must be the best gun in the West and claim your notoriety, build your reputation and ultimately become a legend.
Secret Ponchos is an online combat game with duels, gang fights and free-for-all wars. You increase your character's reputation and level up your different attributes by dominating on the battlefield.
We have mixed top-down strategy with first-person shooter matchmaking and the responsiveness of a fighting game. We feel we have something special to share with you.
First of all, Secret Ponchos seems an interesting blend of genres to say the least, with elements from shooters, fighting games and MOBAs. Did you deliberately aim for this, or perhaps the gameplay just evolved in this direction while developing?
We are so glad you picked up on this! We really set out to do something original in gameplay, and bring something new to combat genres.
The distance management and timing are inspired by fighting games and the tactics from shooters have been pillars from the beginning. Soul Calibur was a big inspiration for that. The top-down camera was necessary to make distancing a functional part of the shooter gameplay. It also gives you a great look at the environments and the mayhem going on around you.
We want to be able to get into a game as fast as possible but also be able to customize the modes within the match creation. First-person shooters have nailed that part of matchmaking, so we took one from their book. Secret Ponchos is always evolving. Everything we create and add inspires something new or something to improve. We won't stop working and improving it until people stop playing it.
In one of the few available videos, one of the playable characters, "Kid Red", covers behind wooden logs. However, I haven't seen anyone else doing it; is this move available to every character or just him?
Cover is a mechanic that is available to all of the characters. Besides it being a classic defensive tactic, shielding you from bullets, we have added offensive perks by recharging your stamina faster, reloading faster and disappearing from your opponents' view. We have added a "line of site" (fog of war) mechanic to hide the characters from each other when they are behind cover or another object where the line of site is broken. You can imagine this open up all kinds of opportunity for flanks and ambushes.
On your official website, you have a section dedicated to the Outlaws, the playable characters of Secret Ponchos, and each one has a different set of weapons and specific stats. However, on your "Game Info" page you mention that gamers will be able to upgrade the abilities (and appearance) of the outlaws, so can you talk a bit about progression? Will it be possible to change weapons/tweak stats of an outlaw?
Each character has been designed with specific primary and secondary weapons. The stats for the character can be adjusted and upgraded as you progress through matches and gain reputation points. You will be able to upgrade your speed, agility, reload time and shot damage. The stat upgrades will make a difference, but we want to keep the characters balanced so that a skilled player with a new character could still have a chance at beating a maxed-out character.
Are there any modes other than deathmatch/team deathmatch and if so, can you describe them? Also, what's the maximum number of players in a match?
We can have up to 8 players on screen. We have matchmaking for 1 vs 1, 2 vs 2, and 4 vs 4 and FFA. We have a Domination mode, where players respawn and the match is a tug of war to determine which team can get a 5-kill lead first. There is also a Deathmatch mode, where once a player is taken out in a round, he/she stays dead for the round. So your teammates have to be careful to stay alive, or you may end up alone against an enemy posse. Mix up any of the gameplay modes by adding in the powerups and get some epic battles! We have strong post-launch support planned, where we will be looking to add new gameplay modes in future updates.
So far we've only seen one map in the videos, are going to be more of them with different layout, therefore requiring different strategies? Do you plan to add more maps/modes via DLC?
We will be shipping with 5 arenas, and each one is themed with a character in mind. They all have different layouts, density of cover objects and overall size. For example, Kid Red's Ranch is a small, tight arena with his family's burned-out house smoldering at the top of the map. It plays really well 1v1 as there are few places to hide. Another map is the "Bone Orchard," a dusty graveyard with open graves, broken walls, fences and crumbling tomb stones to hide behind, making it a great level for bigger battles. We have tried to make each location inspire different strategy and work with all game modes.
You've talked about the bounty system which sounds very cool: by taking down another player, you gain notoriety based on their own. This sounds great for individuals, but what about clan fights and team wide notoriety? That could make for some awesome matches.
It is all about who has the best reputation. In Team matches bounty is awarded based on the performance of each outlaw during the shootout. For example, if one team member takes out 4 players singlehandedly, his/her bounty will go up significantly higher than their teammates. It's great motivation for someone who carries their team.
What has been your experience developing with PlayStation 4? What's the single aspect of its hardware that you prefer above all?
Sony has been great to work with! The PS4 has given us the ability to increase the resolution all of our art, improve the lighting and give us a solid 60fps. The game is feeling great using the Phyre engine on the PS4. We are getting 60fps and the game feels smooth, super responsive and snappy. We are really happy about how it is playing.
Are you implementing the DualShock 4's touchpad in any way and if so, how?
At this time we do not yet have plans of utilizing the touchpad, as the gameplay is really well suited for the analog sticks.
I know that you have decided to stay console exclusive with PlayStation 4, but would like to bring the game to PC. Is this still in your plans and if so, would you enable cross-platform play, as Sony is open to it?
We always promised gamers we would do our best to bring it to PC, and great news: we have just announced the PC version, and best of all, the game is coming to Steam's Early Access program, maybe as soon as June! We are extremely excited to work with PC gamers to see how a community of players use Secret Ponchos, and work with them to both balance and polish the game.
Quite a few gamers are puzzled by the constant lack of local multiplayer in the latest games. Will you support any form of it with Secret Ponchos?
We love local multiplayer, and worked hard to create split-screen co-op in Secret Ponchos. You will be able to take on the world's outlaws with your partner-in-crime on the couch. It's so much fun to have a teammate next to you and go online together.
I understand that Secret Ponchos is focused on being a multiplayer game, but did you ever consider a campaign mode, maybe via DLC or even in a sequel, if there's enough demand for it?
We plan on supporting the community with new characters and arenas for as long as there is demand. We would love to be given the opportunity to develop the Secret Ponchos universe further with sequels and spin-offs. We also have some hopes to add AI modes into Secret Ponchos, for both offline and online play as we develop alternative game modes after launch!
Finally, you mentioned a Q1 release date a few months ago. Are you still on track, or is Q2 more likely at this point? Also, can you comment on the likelihood of the game to be added to the Instant Game Collection?
As an online multiplayer game, we decided that last 10% of quality in balancing and polish means everything to us! So instead of putting the full game out right now, we are going to launch the game almost immediately in Early Access, and dedicate ourselves to a few months of just balancing and polishing to get things rock solid. Once it's there we'll be ready to launch the full PS4 version, and also a PC version thanks to the Early Access community. We hope you love it as much as we do!
Please follow us on our facebook page www.facebook\secretponchos.com , our twitter at @SwitchbladeMkys or best of all subscribe to our mailing list at www.secretponchos.com. We are going to have some major updates rolling out soon, and that's the best way to get involved!