Secret Ponchos dev: Sony & PS4 Great To Work With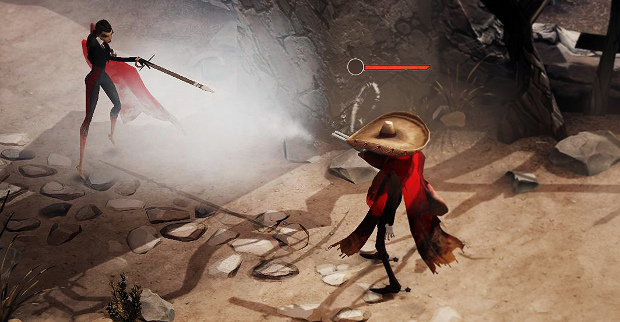 24 April 2014
Last year, Sony Computer Entertainment announced many PS4 indie games, among which Secret Ponchos certainly stands out for its uniqueness. We have therefore reached the team at Switchblade Monkeys to know more on the game, and we'll have a full fledged interview for you shortly. In the meantime, here's an excerpt on their experience working with Sony and PS4, including whether or not they will be using the DualShock 4 touchpad; Lead Artist Jared Fry said:
Sony has been great to work with! The PS4 has given us the ability to increase the resolution all of our art, improve the lighting and give us a solid 60fps. The game is feeling great using the Phyre engine on the PS4. We are getting 60fps and the game feels smooth, super responsive and snappy. We are really happy about how it is playing.

At this time we do not yet have plans of utilizing the touchpad, as the gameplay is really well suited for the analog sticks.
We also got a clarification from Creative Director Yousuf Mapara, who specified that while they're currently pushing for 1080P@60FPS and it's looking good, they'll always choose frame rate over resolution if it comes to that.
Yeah we are currently pushing towards 60 fps and 1080p resolution.  We recently worked hard to get it optimized, and showed 8 player FFA at PAX East running 1080p and 60 fps.  If we do end up hitting a wall, we will always choose frame rate over resolution… But it's currently looking promising for our goal of delivering both.
Check back soon on Worlds Factory for the full interview.