First Project Morpheus Impressions: Similar To Rift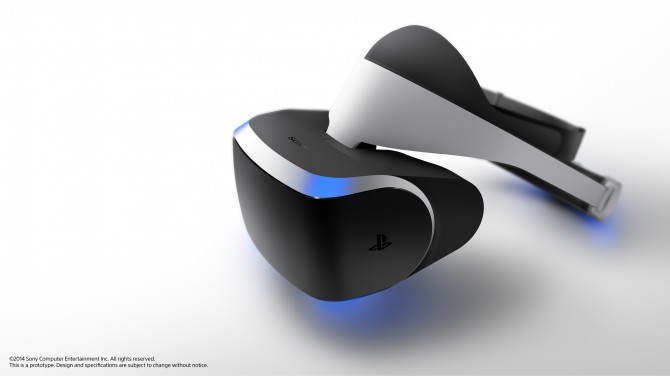 19 March 2014
After months of rumors, Sony finally announced yesterday at GDC 2014 the PS4 VR solution they have been developing. It's called Project Morpheus, and so far it has similar specs to the Oculus Rift, the pioneer of VR on PC platform: 1080p (960×1080 per eye) resolution, 90 degrees FOV (field of view, the Oculus Rift now has 110), 1000 Hz tracking (same as the Rift), 5″ LCD panel (Rift has a 5.6″ OLED). There is one thing that Sony's hardware has built that Rift doesn't provide at the moment, and that is audio; apparently, it's using a unique 3D audio technology developed by SCE, recreating stereoscopic sounds in a way that enhance immersion.
Project Morpheus is a HMD (head mounted display) designed to work with PlayStation Camera; the inertial sensors in the visor interact with the camera so that whenever the player head rotates, the VR image rotates accordingly. As expected, PlayStation Move is also supported as an input method.
Today, some press and industry members were able to try the device, and these are some of the first impressions we could find. The very first to try Project Morpheus was apparently Sebastian Kuntz, CEO of a company called I'm in VR  , and he came away quite impressed, stating that the peripheral is comfortable, has good resolution, low latency and position tracking, while hand tracking still needs to be improved and some blur was still present.
#Morpheus: good rez, comfortable, low latency, wide range position tracking , hand tracking 2b improved, some blur pic.twitter.com/CYs4C29dXR

— Sebastien 'Cb' Kuntz (@Cb_VRGeek) March 19, 2014
He then clarified that he didn't try the second Oculus devkit (DK2) yet, but the FOV in Morpheus was similar to DK1, and there was less blur than in DK1. He confirmed that both head and hand tracking is very stable.
#Morpheus: not tried DK2 yet, but FOV was similar to DK1. Less blur, but still a bit. The tracking (head/hand) is very stable.

— Sebastien 'Cb' Kuntz (@Cb_VRGeek) March 19, 2014
Lastly, he added that he was able to try the underwater demo (called The Deep), where the player is locked in a shark observation cage. Apparently, the earphones aren't that good but he liked the 3D audio.
I tested "The Deep", unnderwater demo, IK was off, but position tracking really adds. Earphones not so good but 3D audio quite nice.

— Sebastien 'Cb' Kuntz (@Cb_VRGeek) March 19, 2014
Next, indie developer David Klingler went in-depth with pros & cons of Project Morpheus vs Oculus Rift. Apparently, he loved the image clarity and full body tracking, but more than anything else the comfort.
What currently sets Morpheus apart from what I've done with oculus is the clarity of very near and far as well as full body tracking

— Solanimus – DavidHK (@Solanimus) March 19, 2014
I must emphasize the comfort. Morpheus is very comfortable; I didn't even think about that I was wearing it until I got asked in aninterview

— Solanimus – DavidHK (@Solanimus) March 19, 2014
He identified the downsides in tracking, a quicker way to reset calibration and sound.
The current downsides for Sony to work through: tracking, quicker resetting of calibration, and perhaps the sound.

— Solanimus – DavidHK (@Solanimus) March 19, 2014
Overall he must have been quite impressed, since he felt like it already deserves a gold star.
Project Morpheus gets Sony a gold star so far.

— Solanimus – DavidHK (@Solanimus) March 19, 2014
Are you looking forward Project Morpheus and if so, do you plan to buy it (it's a PS4 exclusive, at least for now) or will you stick with Oculus Rift on PC? In any case you should temper your expectation, as VR games won't have the same fidelity we're used today.
It will be a trade-off, and VR still has a long way to prove that it will be worth it.